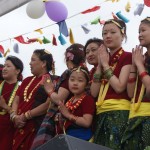 Welcome to you for visiting us. We are youth writers from the indigenous Magar community of Nepal.Nepal Magar Writers' Association, Central committee,Kathmandu Nepal is launching this site to serve & provide materials of publication in Magar language and about indigenous Magar community. You can enjoy this site to read books to understand about indigenous Magar community, Magar language and other subjects related to indigenous Magar community. Magar language, culture and community are properties ofNepaland all human-being of the world
We are crawling to upload more than more books, published materials related to mother tongue and indigenous community from 1st days of 2069 BS to serve Magar language, culture, identity, nationality and humanity. We are in the beginning stage and searching such published books, materials related to our mission and vision. Currently, we have uploaded published
books & materials which we could find out. There are so many books and publications are missing here and we are trying to find out them and we will provide for you. That's why your kind information and suggestions might be valuable for us and your small effort might be beneficial to our indigenous Magar community, nation as well as human beings. So, we anticipate kind co-operation. Thank you.

To know more click on about us menu. To read more magar language books and magar related books please visit menus and sub-menus accordingly. Thank  you.